To this our school we are proud to belong...
... and its praise we sing loud and clear.

Old memories. Old times. Old conversations. Old? Nope! Didnt it just happen yesterday?

Get ready for a loooooooooooooong post.... and a joyride!

When Jamnabites get together the partying never stops. And when you are meeting some of them after almost 5 years, conversations, laughter and emotions run high!

Location: Tandon's place (Millburn, NJ).
Date: 14th May 2005
Occasion: Tandon's 2?th birthday.

But first, a blast from the past. This is a 10th Grade picture and yes, we all look much better than we do right now (except Kallu, who looks the same).


Standing (L-R): Prashant, Athan, Angi, Adarsh, Me, Ganguly, Pranjal (how did he get there?)
Sitting (L-R): Tandon, Kallu, Booga & Ani.
Location: kallu's terrace in Khar.
Year: @ 1995.

Shift back to the present, or the near past if you would like me to be precise.
Pranu and Mrin picked me up @ 3PM from Baltimore and from that moment its been down memory lane. Also were pointed out my past evils by Mrin, which I had thankfully forgotten. Yes, she, Natasha and Meghana would be the last people I would like to conference with my would-be-wife. Qouting Mrin, "Make sure you sign a pre-nup or something that she would not leave you after she has had a rendezvous with with either of us." Yes, I shall keep that in mind. I never knew I used to snatch girls hairbands and throw them in the gents loo. I knew I was a teachers nightmare, but this is taking things too far. How come no one smacked me? And how come I dont remember?
We finally hit Tandons place @ 7:30 PM. I think I met Booga, Tandon and Ani after almost a year. Kallu after a good five years, and his fiancee for the first time.
And the present. Have we really changed? Nah, Kallu still looks the same! (Mom: My hair shall grow back)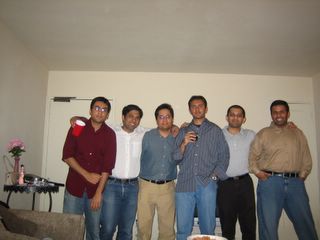 L-R: Kallu, Booga, Tandon, Ani, myself and Pranu (in a difficult to replicate stance)
Here is what I remember next. Eating the Indo-Chinese food, getting tempted into trying a mud-slide, Priya teasing me that its apparently a womans drink, finding a bottle of Bacardi, sweeping the floor (yes, we have
photos
), more conversations, more bottles of bacardi, trying to figure out which of the women were single, more bacardi, Booga cracking some joke on me, Ani suggesting some stuff about the mud-slide, Kallu saying I remind him of Joey, everyone laughing to that, more bacardi, Pranu trying to start a conversation with Foram, Tandon cutting the cake, splashing cake on Tandons face, more Bacardi, finally getting confused which is Bacardi and which is Smirnoff, more Smirnoff, random chatter, trying to figure out who has not had an opportunity to speak, trying to stay silent for 2 minutes, finally figuring out there is one single girl in the room, hallucinating the Bacardi had changed into Jack Daniels, asking Manish if his driver has a H-1B, telling Booga his Long Island Iced Tea looks like Long Island Iced Pee and more but not necessarily in the order mentioned above.
Random Chatter: Kallu (is he trying to fart?), Me, Booga and Mrin
Next Stop: New Yawk City.
Drove right in from Lincoln Tunnel. After all those drinks I think I made quite a good navigator and Tandon managed to find a spot pretty close to Times Square (which is where the club we planned to hang out was).
By now, I have forgiven and forgotten whoever had the brilliant idea of heading to a Desi club. But this is where the fun began. The DJ used to stop the music in the middle of nowhere and start off some speech. Then some couple used to walk down a stair and perform some weird ass dance. Then the DJ used to start abusing. After 20 minutes I was convinced that I should be paid to see this. Well, when in Rome, do as Romans do! So as the music got more pathetic, our dancing got more pathetic. The DJ made his final attempt of pushing me to my limits (read: play the most pathetic song and see how this chap could make his dance worse than what he is already doing).
Yes, we managed to beat him at that too. He played the most lousy song and we did the most lousy dance. Then some weird gay looking fella who claimed to be a choreographer flown in from London tried to show us how to dance to a weird step. I dont believe I actually paid for all this! By this time the DJ was frustrated with us (I like to say us, actually it was only me). So very soon we found ourselves out of the club. Of course, I should mention that I also met Anju, Jessie and 5 seniors from Syracuse. The world is a small place. I think all of them left when they saw me dance.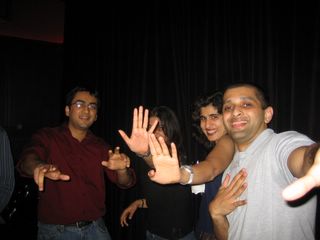 New Dance steps were invented: Kallu, Priya, Mrin and Me.
Actually the above is a traditional dance step followed since Andaz Apna Apna was released.
You keep one hand across your chest, extend the other out in a perpendicular direction and just jump around.
Switch hands with every alternate jump.
What do I remember next? Heading over to Downtown and eating Kathi Rolls on Bleecker @ 6th Ave. This is the New Yawks Desi version of chicken frankie we get in Mumbai (yes, my favorite one is at Kwality's in Juhu - more because its bang in front of JNS).
Next stop: Tandons place (were we there before?).
Time: @ 4 AM.
Purpose: More drinks and more conversations on the meaning of life.
What I remember: Everyone falling off to sleep and Booga striking the best pose.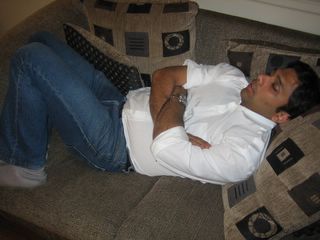 Booga had run a 5 mile marathon at Chicago in the morning,
was going mountain climbing the next day.
Never ask why? Its Booga!!
Tandon and myself going for a morning walk @ 5:30 AM and then doing his laundry. Yes, we are weird! I think I saw sun-rise after like 20 years. Probably hit the bed @ 7 AM. Thanks to Booga I was up by 11 AM. He and his "high heel" shoes walking all around the wooden floor was good enough to wake me up (I should mention here that the sound Boogas shoes made were better than the music played by the DJ - thanks Booga).
Rock solid party. All of Monday I was suffering a hangover. Thank God my meetings got cancelled.
Tandon, I look forward to 14th May 2006 (or any day which resembles 14th May 2005).
And those of you cribbing I am all over the photos, here is one of most of the people, minus me! Of course, if you wanna see the complete album, you can click
here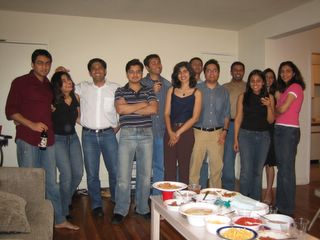 All of the Gang
Photograph: Courtesy Apoorva Joshi